The Pacific Northwest weather is as reliable as winning the lottery, which might cause the outdoor spaces around your home to be overlooked. Although it's easy to forget, in my opinion there are at least three months in the summer when the weather is perfect. Those days are nearing and it's time to get your outdoor space up-to-date and ready to enjoy the summer sun.
When creating or upgrading an outdoor space you might consider lighting, a dining area, a water feature, patio options, an outdoor kitchen, and fire pit variations. Including or upgrading one or more of these features can add value to your home and provide summer-long enjoyment for your family and guests.
Outdoor lighting
Landscape lighting is a key installment for your property. Outdoor lighting makes it easier and safer to navigate dark pathways and stairs and helps ward off intruders. Landscape lighting also extends time spent outdoors and doesn't limit your lounge-time to the sun's schedule. Architectural lighting also allows you to draw attention to different areas of the house or plantings that might not be highlighted in the daylight.
Dining Spaces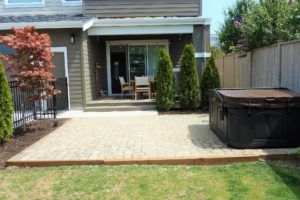 As evenings become longer and nights grow warmer there is nothing more relaxing than enjoying an outdoor meal. Transforming a piece of your yard or patio into an al fresco dining area will make this an easy transition. Take note of the amount of space allocated for your table and chairs. Position the furniture within close proximity of the outdoor kitchen (if you have one) or easy access to the indoor kitchen. Adding a shade source, such as an umbrella or removable awning, will extend the use of the space during peak daylight hours.
Water Features
If you want to make your outdoor space a place of relaxation and tranquility, maybe it's time to consider the addition of a water feature. A water feature is visually appealing, refreshing, and emulates the soothing sounds of a natural pond or stream. Water plants are cost-effective, and if properly designed and maintained, fish can be added to enhance the feature.
Patios
Adding a patio can be a pricier improvement, but it adds value to the home and elevates the outdoor experience for your family and guests. A patio space can be used in a variety of ways but is the perfect plateau for an outdoor table and chairs. Two common types are stamped concrete and paver patios.
Stamped Concrete: This is a popular option because of the beautiful aesthetics and durability for your outdoor environment. It doesn't take a lot of maintenance, such as required with a wood deck. Typically, the surface is sealed, which protects and gives the surface a "wet" look. Re-sealing is generally required every three to five years.
Paver Patios: Paver patios are an excellent choice if you're looking for another long-term option. They are anti-slip, durable, and over time will withstand cracking and weather damage. It also comes with unlimited design options and virtually no maintenance costs. The only disadvantage is the potential weed-growth between the cracks, which isn't anything a little natural, vinegar-based weed killer can't solve.
Outdoor Kitchens
If you're a self-proclaimed Martha Stewart in the kitchen, and enjoy the great outdoors, why not converge the two for an outdoor kitchen extraordinaire? Outdoor kitchens are a useful way to utilize outdoor space and provide an elevated dining experience, not only for entertaining but for everyday use.
If you are contemplating installing an outdoor kitchen don't cut corners on quality, make sure the location is near the kitchen and has minimal exposure to the elements-or rain, for us Pacific Northwest folks. Keep in mind the outdoor kitchen needs a water supply, access to an electrical outlet, and possibly gas. Since plumbing, electricity and zoning rules might get a little tricky for this home improvement project, a certified contractor is helpful for this type of outdoor upgrade.
Outdoor Fire Pit
The popular Christmas Song lyrics "Chestnuts roasting on an open fire," didn't materialize out of thin air. There definitely was an outdoor fire pit to initiate that famous melody. Even so, an outdoor fire pit is useful for more than just roasting chestnuts. It can extend the amount of time one can spend outdoors during all seasons.
The common options are gas and wood burning fire pits. Gas is clean and easy to light and doesn't give off smoke. If you like chopping wood and enjoy a natural flame, then a traditional wood burning fire pit is for you. However, check with your city's zoning and planning to see if wood-burning fire pits are allowed in your area.
Each of these outdoor enhancements are a guaranteed way to sizzle up your summer, convince your guests into thinking they stepped onto the pages of Landscaper's Digest, and get the kids away from being glued to their screens.
We invite you to get creative. Even the smallest of updates can elevate the outdoor experience for yourself, your family, and your guests. For larger projects such as a kitchen or patio installation, make sure you have a certified contractor who specializes in that specific type of outdoor renovation.
If you need assistance with any of these projects or repairs, we can connect you with the appropriate service professionals for your specific needs. Just let us know how we can help by clicking on the work request today!