What is hot in home improvement in 2016?
Lifestyle and energy efficiency are behind many popular home improvement and remodeling trends. Smart homes are on the rise as new technology helps homeowners monitor and control everything from access and security, to lighting, heating and cooling, and the sprinkler system. According to Imagineer Remodeling master baths that resemble spas, kitchens with spacious, open floor plans, and even customized spaces to bathe and feed our 4-legged family members, are on the rise.
Following are a few trends we see gaining popularity locally and among our customers.
Drought Tolerant Landscaping
The idea of replacing water thirsty lawns with native, drought tolerant plants, is gaining a lot of momentum in the Pacific Northwest. The challenge is to find plants that tolerate minimal water during the summer and will survive long, cold, and wet winters. Doing your homework and consulting with a local landscape company that specializes in drought tolerant gardening will help to ensure a successful transition.
Incorporating features such as a stone pathway, concrete or block stairs to access terraced levels, or a comfortable place to sit and enjoy the fruits of your labor, add interest and contrast.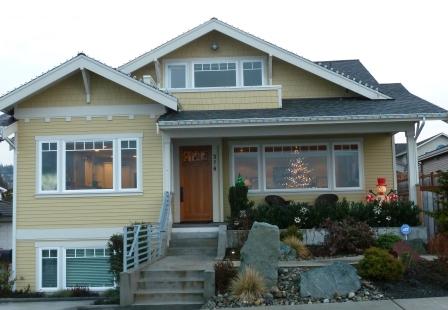 Accessory Dwelling Units
Many modern families are returning to more traditional, multi-generational households. The concept isn't anything new. Aging parents in need of more care often move into their children's homes. But aging parents are not the only folks to influence the evolution of Accessory Dwelling Units (ADU's).
Baby boomers are often caught in the squeeze of economic stresses, sometimes faced with three or four generations living in the same home. In addition to senior parents, many adult children have returned to their parent's home, often bringing younger children with them too.
Immigrants also influence the demand on housing. Multi-generational living is often favored by different cultural groups.
Depending on specific circumstances, finishing a basement or attic, or converting a garage, may provide adequate living space. Other times, adding an in-law suite may be more suitable. Ideally, the additional living space will have a private entrance, bedroom, bathroom, living area, and some type of kitchen.
Incorporating Universal Design into the improvement will ensure the home is safe, functional, and meets the needs each generation requires. It can be as simple as improved lighting and grab bars. Wider halls and doorways, roll-in showers, and lower countertops address more specific needs.
ADU's can also be an income generating asset. As the families needs change, what might be practical today for the in-laws may later turn into a source of rental income or an attractive resale feature.
Outdoor Living Spaces
As summers seem to grow longer and warmer, bridging the inside of the home to an outdoor living space is gaining popularity.
Patios or decks fully or partially covered with a roof extension provide protection from both sun and rain showers, and take advantage of naturally cooling breezes. More elaborate designs allow year round use by converting from an open air concept to a closed room during cooler months of the year.
Energy Efficiency
There are so many ways to improve a home's efficiency. Some require a considerable financial investment and thus take longer to reap the savings. High efficiency heating and cooling systems are gaining interest. Solar power and water heating systems can save money in energy costs and increase property value.
But even a modest investment can have a real impact on reducing your homes carbon footprint. Since the federal energy bill was passed a number of better performing lighting options have become available. More options are popping up in the holiday lighting aisle as well.
Tube skylights, or sun tubes, are relatively inexpensive to purchase and have installed. Depending on the location of the tube, the average do-it-yourself type who is comfortable working on the roof can install them on their own. A 10-inch tube can light approximately 200 square feet of floor area, or the equivalent of roughly three 100-watt bulbs. Larger tubes provide even more light.
Whole house fans can be an efficient way to cool many different types of homes. Proper installation is key and best left to a professional.