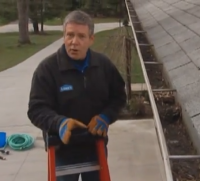 How to Clean Rain Gutters & Downspouts
Gutters and downspouts should be kept clear of debris and properly diverting water away from your home. If you don't mind working from a ladder, this is a job you can do on your own.
First clean out any lose debris using a scoop or simply by hand. Once clean, flush the gutters with a hose, checking for leaks at the seams. If you notice any leaks, thoroughly clean and dry the area before applying a quality outdoor caulk.